Colombia, as readers of Gabriel Garcia Marquez and viewers of Narcos already know, is the home of a literary style known as "magical realism." Per critic Matthew Strecher, magical realism is what happens when "a realistic setting is invaded by something too strange to believe."
This bent towards surreality is reflected in Colombia's contributions to the world's game. I was originally hoping to uncover the story behind the Colombian superfan known to the world as Nazi Weed Pope. Sadly, like the Lone Ranger of yore, NWP apparently just rides into town with naught but his weed leaf and swastika-emblazoned mitre and vestements, lends his bizarre benedictions to Los Cafeteros, and then rides back into the sunset leaving the simple townfolk scratching their heads in wonderment. Which leaves your humble correspondent here with fuckall to write about him, other than the perennial "wow, look at this guy, WTF?"
But it's springtime in Minnesota, and a youngish man's thoughts turn to the other great example of something from Colombia too strange to believe invading our realistic setting. I'm talking, of course, about legendary goalkeeper Rene "El Loco" Higuita.
Born in the rough and tumble barrio of Castilla in Medellín, Colombia in 1966, Rene Higuita was raised in poverty by his grandmother after his single mother died a few years after giving birth to him. As a child he sold newspapers and did odd jobs to keep the wolves of immiseration at bay.
From this Dickensian background, a futbol prodigy would emerge. Higuita began playing on barrio pitches with future Colombia internationals like Chonto Herrera, Alexis Garcia, Chicho Serna, and Pacho Maturana. Now, if you were a poor kid growing up in Medellín in the early 80's, you were almost certainly playing soccer with equipment donated and on fields built by a certain local businessman named Pablo Escobar. Maybe you've heard of him. Don't worry if you haven't, because we'll be seeing more of Pablo in just a few paragraphs.

Legend has it that Higuita played as a striker at youth level, making his way onto a youth all-star selection that was supposed to play a friendly with the local pros Deportivo Independiente Medellín. On match day, the team's keeper got injured during warm-ups, and young Renato was asked to hold down the net. And the rest, as they say, is history.
In 1985 he made his professional debut with Bogota-based Millonarios FC, making 16 appearances, but also scoring 7 goals.  After just one season in Bogota, Higuita found his way home to Medellin, where he joined Atlético Nacional on their storied run from 1986 through 1997 (with a 15 game spell at Real Valladolid in '91-'92).
Looking like an unholy hybrid of Animal from the Muppets and Rick James, Higuita burst into the game like a famished wolverine and forever changed it with his tactical breakthroughs in establishing the "sweeper" style of goalkeeping. Never content to passively mind the net, Higuita actively sought to get involved in the run of play and make offensive moves of his own. This eccentric style gave Higuita's teams the ability let their defensive lines push much higher up the field, pressing the opposition to win the ball back, and freeing the entire team to explore bountiful short passing options created by this more compact shape. Writer Tim Vickery notes that Higuita showed "that a team is made up of 11 footballers, not of 10 players and a goalkeeper."
Higuita made his international debut for Colombia at the age of 20, earning a clean sheet in a friendly against Ecuador on November 6, 1987. His career as Colombia's starting keeper would last until 1999 (with an unfortunate interruption we'll be talking about below). Meanwhile, his club side went from strength to strength, becoming the first Colombian team to win an international tournament with an astonishing shootout victory over Olimpia (Paraguay) in the 1989 Copa Libertadores.
In 1990, Colombia qualified for the World Cup for the first time since 1962. In the group stage, they whipped U.A.E 2-0, lost to Yugoslavia 0-1, and pulled off a miraculous 1-1 draw against Germany to go on to the Round of Sixteen against Cameroon. This game went to extra time after a 0-0 slugfest. Then disaster struck when an over-aggressive Higuita failed to protect the ball 35 yards out from the goal line, allowing Cameroonian striker Roger Milla to slot in a decisive goal, sending Colombia packing. Higuita described this as "a mistake as big as a house."
Back home, Higuita would make some even bigger mistakes, one of which cost him his chance at redemption in the 1994 World Cup. Remember that Pablo Escobar fellow we were just taking about? Well, it turns out he wasn't just running and import/export business. As fate would have it, he was actually running about 80% of the United States' cocaine supply, which is apparently against the law or something? In 1991, with extradition to the U.S. off the table, Pablo turned himself in to the Colombian government on the condition that he could serve his five year sentence in a "prison" he built himself, with guards of his choosing. The resulting edifice perched on a hill overlooking Medellin, was dubbed La Catedral for its grandeur. It featured a full bar, discotheque, and a full length soccer field. Escobar would frequently invite special guests to visit him "behind bars." In 1991, Higuita was photographed making several visits to Escobar at La Catedral. Higuita explained away his association with Escobar as follows: "Everybody knows that Escobar likes soccer. I went, first of all, to thank him for having turned himself in, contributing to the pacification of the country, and, second, to talk about soccer." (Alma Guillermoprieto, The Heart That Bleeds: Latin America Now (1995)).
Unfortunately, Colombia's problems continued to find ways to snare Higuita. In 1993, he found himself off the pitch and in the clank after getting caught up in one of Medellin's all-too-frequent kidnappings. The New York Times described the underlying facts as follows:
In mid-May, 11-year-old Marcela Molina was kidnapped in Medellin. Her father, Luis Carlos Molina, suspected as a money launderer in the Medellin drug cartel, contacted Higuita and asked for his assistance in gaining his daughter's release. Higuita was called upon because he was famous and had a network of contacts in Medellin's poor neighborhoods. Connections were made with the kidnappers, and on May 31, Higuita paid a $300,000 ransom for the Molina family at a Medellin hamburger restaurant, and the girl was handed over to him. The kidnappers have not been caught.

In appreciation, the Molina family handed Higuita what appeared to be a toy box. When he opened it, Higuita found it was stuffed with $50,000 in United States currency, Higuita's attorney said. Higuita declined the money at first, Lizcano said, but the family insisted, and when the money was offered again, he accepted it.

But on June 4, he was charged with violating three articles of the antikidnapping law: illicit enrichment, mediating without authority and failing to inform the police that a kidnapping had taken place.
He ended up being released without charge after seven months in jail. But by then it was too late — over a half year of missed practices and games had destroyed his fitness for Colombia's 1994 World Cup run. This Cup proved to be tragic and doomed for Colombia, effectively ended by Andres Escobar, who accidentally poked in an own goal versus United States. This mistake is largely considered to have cost him his life, as he has murdered upon his return to Medellin.
Returning to international play in 1995, Higuita redeemed himself as a futbolista with what is undoubtedly his most famous moment. The game was a friendly match against England at Wembley Stadium. Jamie Redknapp fired a volley from distance towards the Colombia goal. Then (with a whistle blown as Redknapp was actually offsides), Higuita performed the scorpion kick seen 'round the world.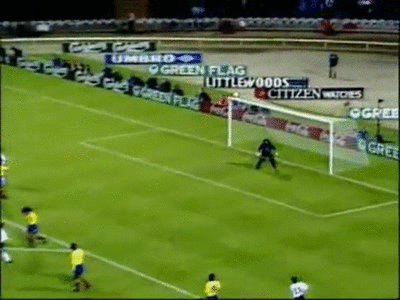 My god, let's see that again.
When asked where he got the idea for such a crazy play, Higuita later explained:
Children have always been my inspiration. I always saw them in the street or in a park trying out bicycle kicks, and I told them it would be good to do it in reverse. And that day in England, I was given the ball that I had been waiting for five years!
On the twentieth anniversary of the kick, Higuita wrote: "Many say that the scorpion was a stroke of genius, others irresponsible. For me it was a work of God and all of it: perfect."
After 24 years of professional play, Higuita finally hung up his boots in 2009. He then ran to be mayor of a small suburb of Medellin in 2011 (apparently, unsuccessfully). He now has his coaching license and is now the goalkeeper coach of Al-Nassr FC in Riyadh, Saudi Arabia.
Something too strange to believe, indeed.